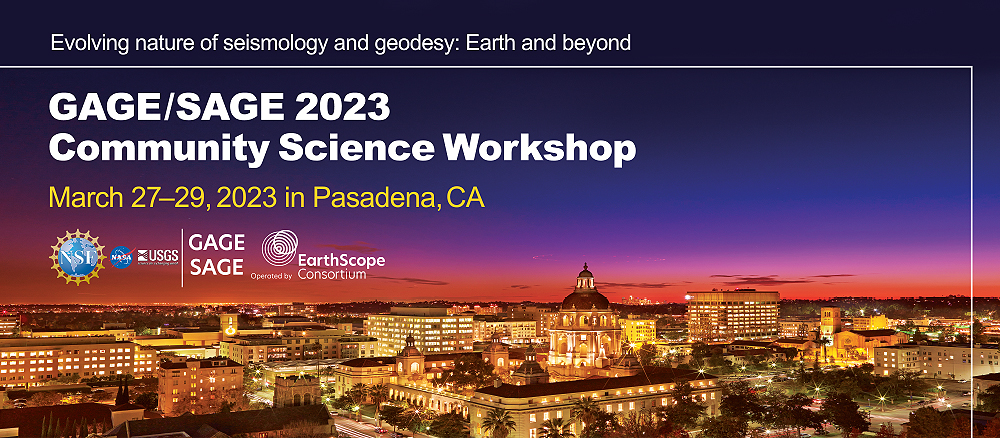 Be sure to register during the Early Bird period (deadline February 24) in order to be able to present a poster. You will have until March 3 to actually submit the abstract.
---
We are currently accepting proposals for Special Interest Group (SIG) breakout sessions — 1.5-hour sessions to foster community discussion and exchange – Deadline January 24, 2023
This workshop focuses on cutting edge geophysical results of processes in the solid earth, cryosphere, oceans, atmosphere, and even other planets. It highlights synergies between the geodetic and seismic research communities in time, space, and methods for approaching datasets and changes in the Earth System. It provides an opportunity to learn about cutting edge research, engage with other members of the community, and expand technical skills.
The Workshop is sponsored by the the National Science Foundation (NSF), National Aeronautics and Space Administration (NASA), and US Geological Survey (USGS). The Geodetic Facility for the Advancement of Geoscience (GAGE) and the Seismological Facility for the Advancement of Geoscience (SAGE) are run by EarthScope Consortium, through cooperative agreements with NSF. EarthScope Consortium was formed through a merger of IRIS and UNAVCO.
Format
The workshop will be held in-person with no virtual component.
All meeting attendees will be required to adhere to the EarthScope Code of Conduct.
Workshop Goals
Facilitate geodetic and seismic scientific research by sharing results and planning future endeavors, and
Foster community among geodetic and seismic researchers, faculty, students, and facility staff,
Provide a venue for professional development in scientific and technical careers.
Workshop Leadership
Science Planning Committee:
Caroline Beghein, University of California Los Angeles
Kristel Chanard, Université de Paris
Eric Lindsey, University of New Mexico
Zhongwen Zhan, California Institute of Technology
EarthScope Planning Contacts:
Beth Pratt-Sitaula, EarthScope Consortium
Justin Sweet, EarthScope Consortium
Have questions? Please contact community

earthscope.org for more information.
COVID Protocols
We will be following the local health orders for Pasadena, California. At the time of writing (January 16, 2023) the City of Pasadena "strongly recommends that everyone stay up to date on COVID-19 vaccination" and "strongly recommends individuals to wear face masks while indoor in all workplaces and public settings". We will continue to link the latest guidance here if it is updated. We encourage all participants to follow City of Pasadena health recommendations. Masks will be available at the workshop registration table.
As part of the registration process, participants will be asked to commit to not attending workshop events if they test positive or develop symptoms during or within 5 days of the start of the workshop, or as otherwise recommended by local health orders.
Important Dates
Student/Postdoc Travel Scholarship Application Deadline
Special Interest Group Proposal Deadline
January 24
Early Bird Registration (poster presenters must register during the early bird period) – Register
January 24 – February 24 (ends 11:59 ET)
Discount Hotel Booking Deadline
Exhibitor Reservation Deadline – Reserve
February 24
Poster Abstract Submission Deadline
Registration Refund Request Deadline (COVID exception)
March 3
Registration Closes
March 19 (ends 11:59 ET)
Short Courses
Sunday March 26
Workshop
Monday March 27 morning – Wednesday March 29 noon
Be sure to register during the Early Bird period (deadline February 24) in order to be able to present a poster. You will have until March 3 to actually submit the abstract.
---
Registration fees
Early Bird Registration (January 24 – February 24)
$200 student/postdoc
$400 regular
Regular Registration (February 25 – March 19)
$250 student/postdoc
$500 regular
Participants currently at institutions in low and low-middle income countries may request a fee waiver. We use the economic definitions given by the World Bank. Please contact community

earthscope.org prior to starting the registration process, if you would like to request a waiver.
Refunds: 100% refund available until March 3. No refunds issued after March 3 (COVID exception). Contact community

earthscope.org for a refund request.
Plenary Sessions
Earth and Planetary Structure – Monday morning
This session brings together seismological and geodetic studies of the interior of the Earth and other planets that contribute to our understanding of planetary structure, formation, and evolution. It will highlight studies using new datasets, modeling approaches, or observational techniques to explore the structure of a planet and to help relate surface processes to the interior. A short list of examples includes geodetic inferences on viscosity or density, plate deformation, or seismological studies of wave velocities, attenuation, anisotropy and core or mantle dynamics.
Chairs: Ebru Bozdag (Colorado School of Mines), Corné Kreemer (University of Nevada Reno)
Linking Surface Deformation with Mantle Dynamics from Numerical Modeling with Data Assimilation – Lijun Liu (University of Illinois)
InSight on Mars, 2018-2022: What a Single Station on Mars was able to Reveal About the Interior from Near-surface to the Core – Mark Panning (JPL)
Weak Base of the Upper Mantle Revealed by Postseismic Deformation Following a Deep (~560 km) Earthquake – Sunny Park (University of Chicago)
Probing Lowermost Mantle Dynamics with Observations of Seismic Anisotropy – Jonathan Wolf (Yale University)
Hazards, Transients, and Society – Monday afternoon
Modern seismic and geodetic techniques (and their combinations) have given us the ability to sense transient crustal processes in unprecedented detail. This session focuses on new measurement techniques and new observations of Earth hazards (earthquakes, volcanoes, landslides, etc.) and other transient sources, and on the insight these data can provide into the physical processes driving such events. A crucial component of hazard mitigation involves effective and timely public outreach and engagement; this session also serves to highlight these efforts. We invite discussion on how SAGE & GAGE can help us better prepare (scientifically and societally) for future occurrences.
Chairs: Roby Douilly (University of California Riverside), Dara Goldberg (USGS)
The Value and Challenges of High Spatial Resolution Satellite Observations for Volcano Science and Hazard Mitigation – Matthew Pritchard (Cornell University)
Towards Volcanic Hazards Assessment Using Transient Detection in the Natron Rift, Tanzania – D. Sarah Stamps (Virginia Tech)
Earthquake Early Warning Along the US West Coast: Improving Detection and Characterization of Offshore Events with Limited Data – Amy Williamson (University of California Berkeley)
Satellite Sensing of Precursory Motion for Landslide Inundation Forecasting – Yuankun Xu (University of California Berkeley)
Evolving Landscape and Climate – Tuesday morning
Advances in seismo-geodetic observations provide an unprecedented opportunity to study environmental processes beyond the solid Earth. This session explores the potential of these observations to quantitatively monitor various variables relevant to further our understanding of the evolving landscape and climate. Examples of variables include, but are not restricted to, terrestrial water storage, ice sheet and glacier mass, sediment transport, tropospheric water vapor and sea level.
Chairs: Marine Denolle (University of Washington), Chris Harig (University of Arizona)
DAS in the Cryosphere – Dominik Graeff (University of Washington)
Groundwater Monitoring Using GNSS – Justine Overacker (University of Nevada Reno)
Seismo-geomorphology – Danica Roth (Colorado School of Mines)
Open Science with IcePyx – Jessica Scheick (University of New Hampshire)
Seafloor and Marine Feophysics – Tuesday afternoon
This session highlights new technologies, sensing capabilities, and sciences in areas beyond land, including but not limited to seafloor geodesy and seismology, submarine fiber-optic sensing, and ocean wave monitoring. Offshore data currently occupy a small fraction of the SAGE/GAGE facility but are bound to grow rapidly and contribute insights to key geophysics questions and beyond.
Chairs: Noel Bartlow (University of Kansas), Ƶack Spica (University of Michigan)
Imaging the Cascadia Subduction Zone with Marine Active Source Seismic Data – Shoushou Han (University of Texas)
Marine Geophysical Studies of a Vapor-Driven Hydrothermal Field on the Floor of Yellowstone Lake – Robert A Sohn (WHOI)
Probing the Solid Earth and the Hydrosphere with Ocean-Bottom Distributed Acoustic Sensing – Loïc Viens (LANL)
Geodesy on the Seafloor – Mark Zumberge (UCSD/SIO)
New Opportunities and Future Directions – Wednesday morning
This forward-looking session explores the frontiers of geophysics in areas such as instrument design and development, data analyses, and new/upcoming collaborations that are expanding the reach of geophysics. We highlight new technologies and how they are helping to advance geophysics on Earth as well as on other planets. We also look at how innovative approaches to data analysis allow us to learn more from new and existing datasets and also explore the evolving opportunities for interdisciplinary geodesy and seismology.
Chairs: Peter James (Baylor University), Mark Panning (JPL)
Geodesy Transforming Our Understanding of Planetary Interior – Anton Ermakov (University of California Berkeley)
The Future of Seismology Across the Solar System – Dani Della Giustina (University of Arizona)
Electromagnetic Investigations of the Interiors of Solid Worlds – Robert Grimm(Southwest Research Institute)
Future Lunar Geophysical Mission Opportunities including the Lunar Geophysical Network – Heidi Fuqua Haviland (NASA Marshall Space Flight Center)
Short Courses
Free half- and whole-day short courses will be offered Sunday March 26, 2023—the day before the main workshop starts.
You can register for short courses during the regular workshop registration process. Short courses are concurrent. You can only sign up for one. Space is limited. PLEASE ONLY SIGN UP if you actually plan to attend. If you decide at a later date you would like to register for a short course, contact community

earthscope.org.
For students/postdocs who receive travel scholarships, you will be eligible for an additional $150 support stipend if you attend a short course and need an additional night of hotel.
Hotels
Several local hotels have reserved discounted courtesy blocks of rooms for GAGE/SAGE Community Science Workshop attendees. Hotel booking will open a few days after January 24. We will send an announcement when they are available. Thank you for your patience.
Travel Support Scholarships
Undergraduates, graduate students, and postdocs from U.S. domestic colleges and universities are all eligible to apply for travel support scholarships. The application period is now closed. We anticipate notifying scholarship awardees by early February.
If selected, you will receive a travel stipend of up to $1000 to offset attendance costs (e.g. transportation, hotel, registration). You will still be required to pay the workshop registration fee.
Venue
The Workshop will be held at the Pasadena Convention Center in Pasadena, California.
300 E. Green Street
Pasadena, CA 91101
Airports
The Pasadena, California is served by three area airports.
Burbank Hollywood Airport (BUR) – 18 miles
Los Angeles International Airport (LAX) – 29 miles
Ontario International Airport (ONT) – 36 miles
Exhibitor Information
Up to 10 exhibitor tables are available on a first-come first-serve basis. Final deadline February 24, 2023. Reservation fee $1000.
The reservation includes:
One (1) 6' x 30" table
Two (2) chairs
There will be basic electrical outlets available throughout the lobby area.
If you require any additional power and/or audio/video, you will need to contract directly with the convention center's preferred vendor, and submit payment directly to them. Once you have registered and paid the exhibitor fee, EarthScope will provide you with contact information for the convention center audio/video provider along with detailed shipping instructions.
Tables will be available beginning in the afternoon on Sunday, March 26th, and must be cleared no later than 1 PM on Wednesday, March 29th, directly following the end of the workshop.
Please note that all exhibitor representatives who plan to attend will need to register for the workshop and pay the registration fee.
Have questions? Please contact community

earthscope.org for more information.