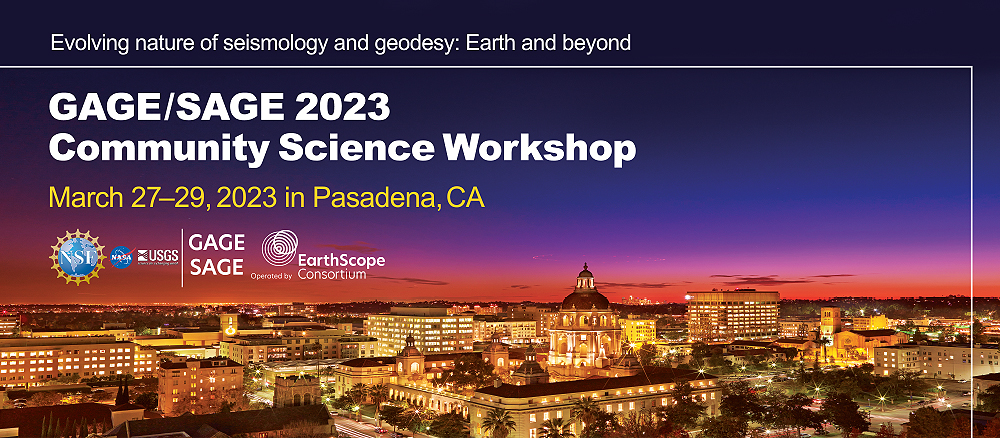 Registration closed on March 19.
---
This workshop focuses on cutting edge geophysical results of processes in the solid earth, cryosphere, oceans, atmosphere, and even other planets. It highlights synergies between the geodetic and seismic research communities in time, space, and methods for approaching datasets and changes in the Earth System. It provides an opportunity to learn about cutting edge research, engage with other members of the community, and expand technical skills.
The Workshop is sponsored by the the National Science Foundation (NSF), National Aeronautics and Space Administration (NASA), and US Geological Survey (USGS). The Geodetic Facility for the Advancement of Geoscience (GAGE) and the Seismological Facility for the Advancement of Geoscience (SAGE) are run by EarthScope Consortium, through cooperative agreements with NSF. EarthScope Consortium was formed through a merger of IRIS and UNAVCO.
Format
The workshop will be held in-person with no virtual component.
All meeting attendees will be required to adhere to the EarthScope Code of Conduct.
Poster size maximum: 4'x4′ (114×114 cm)
Workshop Goals
Facilitate geodetic and seismic scientific research by sharing results and planning future endeavors, and
Foster community among geodetic and seismic researchers, faculty, students, and facility staff,
Provide a venue for professional development in scientific and technical careers.
Workshop Leadership
Science Planning Committee:
Caroline Beghein, University of California Los Angeles
Kristel Chanard, Université de Paris
Eric Lindsey, University of New Mexico
Zhongwen Zhan, California Institute of Technology
EarthScope Planning Contacts:
Beth Pratt-Sitaula, EarthScope Consortium
Justin Sweet, EarthScope Consortium
Have questions? Please contact community

earthscope.org for more information.
COVID Protocols
We will be following the local health orders for Pasadena, California. At the time of writing (March 24, 2023) the City of Pasadena had recently rescinded it's state of emergency regarding COVID and recommends that people follow CDC guidelines related to vaccination and State of California guidance related to masking.
Although the City of Pasadena is no longer strongly recommending that individuals wear face masks while indoor in all workplaces and public settings, the GAGE/SAGE Workshop will still have masks and COVID test kits available at registration for anyone who needs them.
As part of the registration process, participants committed to not attending workshop events if they test positive or develop symptoms during or within 5 days of the start of the workshop, or as otherwise recommended by local health orders.
Important Dates
Student/Postdoc Travel Scholarship Application Deadline
Special Interest Group Proposal Deadline
January 24
Early Bird Registration (poster presenters must register during the early bird period)
January 24 – February 24 (ends 11:59 ET)
Discount Hotel Booking Deadline
Exhibitor Reservation Deadline
February 24
Poster Abstract Submission Deadline (only available to people who registered during the early bird period)
Registration Refund Request Deadline (COVID exception)
March 3
Registration Closes
March 19 (ends 11:59 ET)
Short Courses
Sunday March 26
Workshop
Monday March 27 morning – Wednesday March 29 noon
---
Registration fees
Early Bird Registration (January 24 – February 24)
$200 student/postdoc
$400 regular
Regular Registration (February 25 – March 19)
$250 student/postdoc
$500 regular
Participants currently at institutions in low and low-middle income countries may request a fee waiver. We use the economic definitions given by the World Bank. Please contact community

earthscope.org prior to starting the registration process, if you would like to request a waiver.
Refunds: 100% refund available until March 3. No refunds issued after March 3 (COVID exception). Contact community

earthscope.org for a refund request.
Plenary Sessions
Earth and Planetary Structure – Monday morning
This session brings together seismological and geodetic studies of the interior of the Earth and other planets that contribute to our understanding of planetary structure, formation, and evolution. It will highlight studies using new datasets, modeling approaches, or observational techniques to explore the structure of a planet and to help relate surface processes to the interior. A short list of examples includes geodetic inferences on viscosity or density, plate deformation, or seismological studies of wave velocities, attenuation, anisotropy and core or mantle dynamics.
Chairs: Ebru Bozdag (Colorado School of Mines), Corné Kreemer (University of Nevada Reno)
Hazards, Transients, and Society – Monday afternoon
Modern seismic and geodetic techniques (and their combinations) have given us the ability to sense transient crustal processes in unprecedented detail. This session focuses on new measurement techniques and new observations of Earth hazards (earthquakes, volcanoes, landslides, etc.) and other transient sources, and on the insight these data can provide into the physical processes driving such events. A crucial component of hazard mitigation involves effective and timely public outreach and engagement; this session also serves to highlight these efforts. We invite discussion on how SAGE & GAGE can help us better prepare (scientifically and societally) for future occurrences.
Chairs: Roby Douilly (University of California Riverside), Dara Goldberg (USGS)
Evolving Landscape and Climate – Tuesday morning
Advances in seismo-geodetic observations provide an unprecedented opportunity to study environmental processes beyond the solid Earth. This session explores the potential of these observations to quantitatively monitor various variables relevant to further our understanding of the evolving landscape and climate. Examples of variables include, but are not restricted to, terrestrial water storage, ice sheet and glacier mass, sediment transport, tropospheric water vapor and sea level.
Chairs: Marine Denolle (University of Washington), Chris Harig (University of Arizona)
Seafloor and Marine Geophysics – Tuesday afternoon
This session highlights new technologies, sensing capabilities, and sciences in areas beyond land, including but not limited to seafloor geodesy and seismology, submarine fiber-optic sensing, and ocean wave monitoring. Offshore data currently occupy a small fraction of the SAGE/GAGE facility but are bound to grow rapidly and contribute insights to key geophysics questions and beyond.
Chairs: Noel Bartlow (University of Kansas), Ƶack Spica (University of Michigan)
New Opportunities and Future Directions – Wednesday morning
This forward-looking session explores the frontiers of geophysics in areas such as instrument design and development, data analyses, and new/upcoming collaborations that are expanding the reach of geophysics. We highlight new technologies and how they are helping to advance geophysics on Earth as well as on other planets. We also look at how innovative approaches to data analysis allow us to learn more from new and existing datasets and also explore the evolving opportunities for interdisciplinary geodesy and seismology.
Chairs: Peter James (Baylor University), Mark Panning (JPL)
Odd-numbered posters on Monday March 27 (4:00-5:45 pm)
Even-numbered posters on Tuesday March 28 (4:15-6:00 pm)
Poster size maximum: 4'x4′ (114×114 cm)
Posters are grouped by author-selected alignment to plenary themes

1-50 – Earth and Planetary Structure
51-98 – Hazards, Transients, and Society
99-116 – Evolving Landscape and Climate
117-124 – Seafloor and Marine Geophysics
125-132 – New Opportunities and Future Directions
133-138 – Facility Support, Education, Broader Impacts
---
Short Courses
Free half- and whole-day short courses will be offered Sunday March 26, 2023—the day before the main workshop starts.
You can register for short courses during the regular workshop registration process. Short courses are concurrent. You can only sign up for one. Space is limited. PLEASE ONLY SIGN UP if you actually plan to attend. If you decide at a later date you would like to register for a short course, contact community

earthscope.org.
For students/postdocs who receive travel scholarships, you will be eligible for an additional $150 support stipend if you attend a short course and need an additional night of hotel.
Travel Support Scholarships
Undergraduates, graduate students, and postdocs from U.S. domestic colleges and universities are all eligible to apply for travel support scholarships. The application period is now closed. All recipients have been notified. Selected applicants will receive a travel stipend of up to $1000 to offset attendance costs (e.g. transportation, hotel, registration). Recipients are required to pay the workshop registration fee. List of Travel Support Scholarship Recipients
Venue
The Workshop will be held at the Pasadena Convention Center in Pasadena, California.
Registration is in the Ballroom Building – Venue Map
300 E. Green Street
Pasadena, CA 91101
Local Information
Airports
The Pasadena, California is served by three area airports.
Burbank Hollywood Airport (BUR) – 18 miles
Los Angeles International Airport (LAX) – 29 miles
Ontario International Airport (ONT) – 36 miles
Parking
Pasadena Convention Center Parking & Directions (opens in new tab)
Hotels
Pasadena: Places to Stay (opens in new tab)
A variety of local hotels offered discounted courtesy blocks during the registration Early Bird period but that option is now closed.
First Name
Last Name
Institution
Niloufar
Abolfathian
JPL-Caltech
Mateo
Acosta
California Institute of Technology
Kasey
Aderhold
EarthScope Consortium
Victor
Afigbo
University of Idaho
Kayode
Agboola
The University of Alabama, Tuscaloosa
Mir
Alam
Bowling Green State Univeristy
Richard
Allen
University of California Berkeley
Kent
Anderson
EarthScope Consortium
Solene L
Antoine
Jet Propulsion Laboratory
Tamara
Aránguiz
University of Washington
Donald Francis
Argus
Jet Propulsion Laborartory
Aris G.
Aspiotes
USGS
Rick
Aster
Colorado State University
Carmen
Atkins
Virginia Tech
Jimmy
Atterholt
California Institute of Technology
Dan
Auerbach
UCSD-Scripps Institution of Oceanography
Ken
Austin
EarthScope Consortium
Brad
Avenson
Silicon Audio
Forest
Banks
Battelle Memorial Institute
Andy
Barbour
USGS
Noel M
Bartlow
University of Kansas
Gerald
Bawden
NASA Headquarters
LUIS IVAN
BAZAN FLORES
The University of Memphis
Bruce
Beaudoin
EarthScope Primary Instrument Center
David
Bekaert
JPL-Caltech
Becks
Bendick
EarthScope Consortium
Aubrey
Bennett
University of Arizona
Rick
Bennett
National Geodetic Survey
Maggie
Benoit
National Science Foundation
Henry
Berglund
EarthScope Consortium
Susan
Bilek
New Mexico Tech
Ettore
Biondi
California Institute of Technology
Michael
Blanpied
USGS Earthquake Hazards Program
Freddy
Blume
EarthScope Consortium
Omer
Bodur
The University of Texas at Dallas
David
Bonck
National Geodetic Survey
Adrian
Borsa
University of California San Diego
Ebru
Bozdag
Colorado School of Mines
Emily
Brodsky
University of California Santa Cruz
Mike
Brudzinski
Miami University
Brennan
Brunsvik
University of California Santa Barbara
Roland
Bürgmann
University of California Berkeley
Bob
Busby
EarthScope Consortium
D.J.
Bustos
EarthScope Primary Instrument Center
Kristel
Chanard
IPGP
Donna
Charlevoix
EarthScope Consortium
Cam
Chavez Reed
The University of New Mexico
Ann
Chen
The University of Texas at Austin
Kai
Chen
Brown University
Qing
Chen
China University of Geosciences Wuhan
Sifang
Chen
The University of Chicago
Wang-Ping
Chen
China University of Geosciences Wuhan
University of Illinois Urbana-Champaign
Yu
Chen
The University of Texas at Dallas
Zhi-ang
Chen
Arizona State University
Yifang
Cheng
University of California Berkeley
Jeng Hann
Chong
University of New Mexico
Gail
Christeson
National Science Foundation
Lindsay
Chuang
Georgia Institute of Technology
Rob
Clayton
California Institute of Technology
John
Collins
Woods Hole Oceanographic Institution
Norma A.
Contreras
University of California Riverside
Shyane
Cornell
California State University Northridge
Gale J.
Cox
EarthScope Consortium
Chris
Crosby
EarthScope Consortium
Brendan
Crowell
University of Washington
Andrew
Dalby
Nanometrics
Jensen
DeGrande
University of Washington
Kimber
DeGrandpre
National Geodetic Survey
Dani Mendoza
DellaGiustina
University of Arizona
Marine
Denolle
University of Washington
John B.
DeSanto
University of Washington
Naya
Deykes
Northern Arizona University
Monica
Diaz
California State University Northridge
Tim
Dittmann
EarthScope Consortium
Sarah
Doelger
EarthScope Consortium
Roby
Douilly
University of California Riverside
James
Downing
EarthScope Consortium
Elizabeth
Eiden
Cornell University
Zach
Eilon
University of California Santa Barbara
Kelly
Enloe
EarthScope Consortium
Susan
Eriksson
Eriksson Associates
Anton
Ermakov
University of California, Berkeley
Jiaqi
Fang
California Institute of Technology
Bill
Fasbinder
EarthScope Consortium
Kuan-Fu
Feng
University of Utah
Yuri
Fialko
Scripps Institution of Oceanography, UCSD
Eric J.
Fielding
Jet Propulsion Lab, Caltech
Mike
Floyd
MIT
Heather
Ford
University of California Riverside
Andy
Frassetto
EarthScope Consortium
Jeff
Freymueller
Michigan State University
Fabiana
Fuentes
University of Colorado Boulder
Bill
Funderburk
EarthScope Consortium
Gareth
Funning
University of California Riverside
Jim
Gaherty
Northern Arizona University
John
Galetzka
National Geodetic Survey
Ricky
Garza-Giron
Colorado State University
Elyse
Gaudreau
University of Victoria
Jess
Ghent
University of Washington
Abhi
Ghosh
University of California Riverside
Jacob A
Gochenour
New Mexico Tech
Dara
Goldberg
USGS
Yuancong
Gou
University of California Berkeley
Dominik
Gräff
University of Washington
Ronni
Grapenthin
University of Alaska Fairbanks
Bob
Grimm
Southwest Research Institute
Helio L.
Guerra Neto
Michigan State University
Katherine
Guns
University of California San Diego
Michael
Gurnis
California Institute of Technology
Chloe
Gustafson
USGS
Bill
Hammond
University of Nevada Reno
Shuoshuo
Han
University of Texas Institute for Geophysics
Catherine (Cassie)
Hanagan
University of Arizona
Shangqin
Hao
Scripps Institution of Oceanography, UCSD
Heidi
Haviland
NASA Marshall Space Flight Center
Elizabeth
Hearn
National Science Foundation
Sid
Hellman
ISTI
Brandon
Herr
Purdue University
Tom
Herring
MIT
Tiegan
Hobbs
Geological Survey of Canada
Junlin
Hua
The University of Texas at Austin
Stacey
Huang
NASA Goddard Space Flight Center
Yiran
Huang
Brown University
Ken
Hudnut
Southern California Edison
Zel
Hurewitz
Scripps Institution of Oceanography, UCSD
Carolina
Hurtado Pulido
Tulane University
Allen
Husker
California Institute of Technology
Lorraine
Hwang
University of California Davis
SAIFUL
ISLAM APU
University of Kansas
Peter
James
Baylor University
Zhe
Jia
University of California San Diego
Scott
Johnson
EarthScope Consortium
Wade
Johnson
EarthScope Consortium
Galen
Kaip
The University of Texas at El Paso
Mo
Kapila
Septentrio
Aditya
Kar
Fort Valley State University
Prachi
Kar
Arizona State University
Dain
Kim
Boston University
Anika
Knight
EarthScope Consortium
Monica
Kohler
California Institute of Technology
Cagatay
Koksal
RIFT SYSTEMS INC.
Attila
Komjathy
NASA JPL
Rebecca
Kramer
USGS Cascades Volcano Observatory
Corné
Kreemer
University of Nevada Reno
Siddharth
Krishnamoorthy
JPL-Caltech
Sarah
Kruse
University of South Florida
Cody
Kupres
Purdue University
Asenath
Kwagalakwe
Virginia Tech
Nicholas
Lau
Scripps Institution of Oceanography, UCSD
Amanda
Leaman
Utah State University
Jean-Joel
Legre
University of Rochester
Isis
Lemus
University of California Berkeley
Jialin
Li
Washington University in St Louis
Jiaqi
Li
University of California Los Angeles
Jiaxuan
Li
California Institute of Technology
Yiran
Li
Binghamton University
Yuexin
Li
California Institute of Technology
Fan-Chi
Lin
University of Utah
Danielle
Lindsay
University of California Berkeley
Eric
Lindsey
University of New Mexico
James
Lindsey
Guralp Systems Ltd.
Stefan
Lisowski
ISTI
Cheng-Nan
Liu
University of Utah
Chujie
Liu
The University of Texas at Austin
Lin
Liu
The Chinese University of Hong Kong
Meichen
Liu
University of Michigan
Prof. Lijun
Liu
University of Illinois Urbana-Champaign
Shangxin
Liu
University of Florida
Yuan-Kai
Liu
California Institute of Technology
Zhen
Liu
JPL-Caltech
Diego
Lobos Lillo
Cornell University
Madeleine C
Lucas
University of Washington
Paul
Lundgren
Jet Propulsion Laboratory
Karen
Luttrell
Louisiana State University
Mitchell
MacInnis
Reftek Systems
Nicholas
Madera
California State University Northridge
Beatrice
Magnani
Southern Methodist University
Anuradha
Mahanama
University of Memphis, CERI
Rishav
Mallick
California Institute of Technology
Doerte
Mann
EarthScope Consortium
wei
mao
California Institute of Technology
Hilary
Martens
The University of Montana
Léo
Martire
NASA JPL
Samson
Marty
California Institute of Technology
Kathryn
Materna
USGS
Glen
Mattioli
EarthScope Consortium
Jeremy
Maurer
Missouri University of Science and Technology
Andrew
McDowell
NGA
Elisa
McGhee
Colorado State University
Daniel
McNamara
EarthScope Consortium
Taunia
Medina
EarthScope Consortium
Tim
Melbourne
Central Washington University
Rob
Mellors
University of California San Diego
David
Mencin
EarthScope Consortium
Brooks
Mershon
Earthscope Consortium
Kate
Miller
University of Texas at Arlington
Nina
Miller
University of Nevada Reno
Chris
Milliner
California Institute of Technology
Joanna
Millstein
MIT-WHOI
Brent
Minchew
Massachusetts Institute of Technology
Angelyn (Angie)
Moore
Jet Propulsion Lab, Caltech
Melissa M
Moore
University of North Alabama
Akram
Mostafanejad
EarthScope Primary Instrument Center
Bailey
Mullett
Colorado School of Mines
Derrick
Murekezi
Georgia Institute of Technology
Jessica
Murray
USGS
Mark
Murray
USGS
Andrew
Newman
Georgia Institute of Technology
Yiyu
Ni
University of Washington
Shiying
Nie
University of Southern California
Kim
Nitschke
Battelle
Lisa
Nykolaishen
Natural Resources Canada
Oyewande
Ojo
Oklahoma State University
David
Olatunji
Bowling Green State University
Tolu
Olugboji
University of Rochester
LANI
ONCESCU
Kinemetrics, Inc.
Justine
Overacker
University of Nevada Reno
Susan
Owen
Jet Propulsion Laboratory
Esther
Oyedele
Virginia Tech
Dibyashakti
Panda
The University of New Mexico
Mark
Panning
JPL-Caltech
Arvind
Parapuzha
Kinemetrics, Inc.
Sunyoung
Park
University of Chicago
Nick
Pelyk
Nanometrics Inc.
Andres
Pena Castro
University of New Mexico
Colin
Pennington
Lawrence Livermore National Laboratory
Leonid
Pereiaslov
California Institute of Technology
Joseph R
Pettit
EarthScope Consortium
Mandala
Pham
The University of Texas at Austin
Ben
Phillips
NASA
Krystin
Poitra
EarthScope Consortium
Daniel Evan
Portner
Arizona State University
Kaushik
Pradhan
The University of Texas at El Paso
Beth
Pratt-Sitaula
EarthScope Consortium
Matt
Pritchard
Cornell University
Tahiry
Rajaonarison
New Mexico Tech
Ojashvi
Rautela
California Institute of Technology
Kevin
Reath
NASA HQ
Alba
Rodriguez Padilla
University of California Davis
Nick
Romano
Battelle
Tim
Ronan
EarthScope Consortium
Zachary
Ross
California Institute of Technology
Danica
Roth
Colorado School of Mines
Angikar
Roy
University of Kansas
Mats
Rynge
CI Compass (USC/ISI)
Ben
Sadler
Baylor University
Jeanne
Sauber
NASA Goddard Space Flight Center
Loring
Schaible
University of New Mexico
Jessica
Scheick
University of New Hampshire
Brandon
Schmandt
University of New Mexico
Derek
Schutt
Colorado State University
Alissa
Scire
EarthScope Primary Instrument Center
Yeshey
Seldon
University of Texas at El Paso
Eleanor
Serviss
University of Montana
Heather
Shaddox
University of California Berkeley
Beth
Shallon
University of California Riverside
Gillian
Sharer
EarthScope Consortium
Anurag
Sharma
Florida International University
Anne
Sheehan
University of Colorado Boulder
Qibin
Shi
University of Washington
Joel D.
Simon
Princeton University
Frederik J
Simons
Princeton University
Mark
Simons
California Institute of Technology
Jacob
Sklar
EarthScope Consortium
Rob
Sohn
Woods Hole Oceanographic Institution
Margarita
Solares
University of Oregon
Yashwant
Soni
Baylor University
Lavoisiane
Souza
Scripps Institution of Oceanography
Ƶack
Spica
University of Michigan
Molly
Staats
EarthScope Consortium
D. Sarah
Stamps
Virginia Tech
David
Stowers
Jet Propulsion Laboratory/Caltech
Robert Allen
Strohl
Septentrio
Siyuan
Sui
Stony Brook University
Danielle
Sumy
EarthScope Consortium
Justin
Sweet
EarthScope Consortium
Walter
Szeliga
Central Washington University
Mary
Templeton
EarthScope Consortium
Gabrielle
Tepp
Caltech/SCSN
Rachel
Terry
EarthScope Consortium
Chad
Trabant
EarthScope Consortium
Abigail
Travers
California State University Northridge
Eric
Triplett
California State University Northridge
Ryan
Turner
USGS Earthquake Science Center
Katia
Tymofyeyeva
NASA Jet Propulsion Lab
Tonie
van Dam
University of Utah
Bhuvan
Varugu
Jet Propulsion Laboratory
Alex
Vega
Septentrio
Loïc
Viens
Los Alamos National Laboratory
Valeria
Villa
California Institute of Technology
Lara
Wagner
Carnegie Institution for Science
Fan
Wang
Michigan State University
Herbert
Wang
University of Wisconsin Madison
Taiyi A.
Wang
Stanford University
Neil
Watkiss
Guralp Systems Ltd.
Melissa
Weber
EarthScope Consortium
Dayanthie
Weeraratne
California State University Northridge
Xiaozhuo
Wei
University of Rhode Island
John "Jack"
Wilding
California Institute of Technology
Amy
Williamson
University of California Berkeley
Paul
Winberry
Central Washington University
Jonathan
Wolf
Yale University
Emily
Wolin
EarthScope Consortium
Hayley
Woodrich
University of Illinois Urbana-Champaign
Bob
Woodward
EarthScope Consortium
Yuankun
Xu
University of California Berkeley
Xiaotao
Yang
Purdue University
Yan
Yang
California Institute of Technology
Jiuxun
Yin
California Institute of Technology
Qian
Yuan
California Institute of Technology
Molly
Zebker
The University of Texas at Austin
Zhongwen
Zhan
California Institute of Technology
Maochuan
Zhang
University of Washington
Shane
Zhang
University of Colorado Boulder
Ziqi (Evan)
Zhang
University of Rochester
Mengjie
Zheng
Institute of Geology and Geophysics
Chinese Academy of Sciences
Yujie
Zheng
California Institute of Technology
Zechao
Zhuo
Michigan State University
Caifeng
Zou
California Institute of Technology
Mark
Zumberge
Univerity of California San Diego