On February 6th, 2023, Türkiye and Syria experienced the devastating effects of two large (magnitude 7.8 and 7.5) earthquakes, which triggered more than 200 aftershocks. A recent study led by first author Gesa Maria Petersen maps two fault zones using data produced from these earthquakes, uncovering never before mapped fault sections and ground motion along these faults. 
The figure below shows the East Anatolian fault zone (EAFZ)—formed by the northward moving Arabian plate to the east and the westward moving Anatolian plate to the west—which hosted the larger earthquake. Branching from the EAFZ to the west is the Sürgü-Misis fault zone (SMFZ), which hosted the magnitude 7.5 earthquake nine hours later.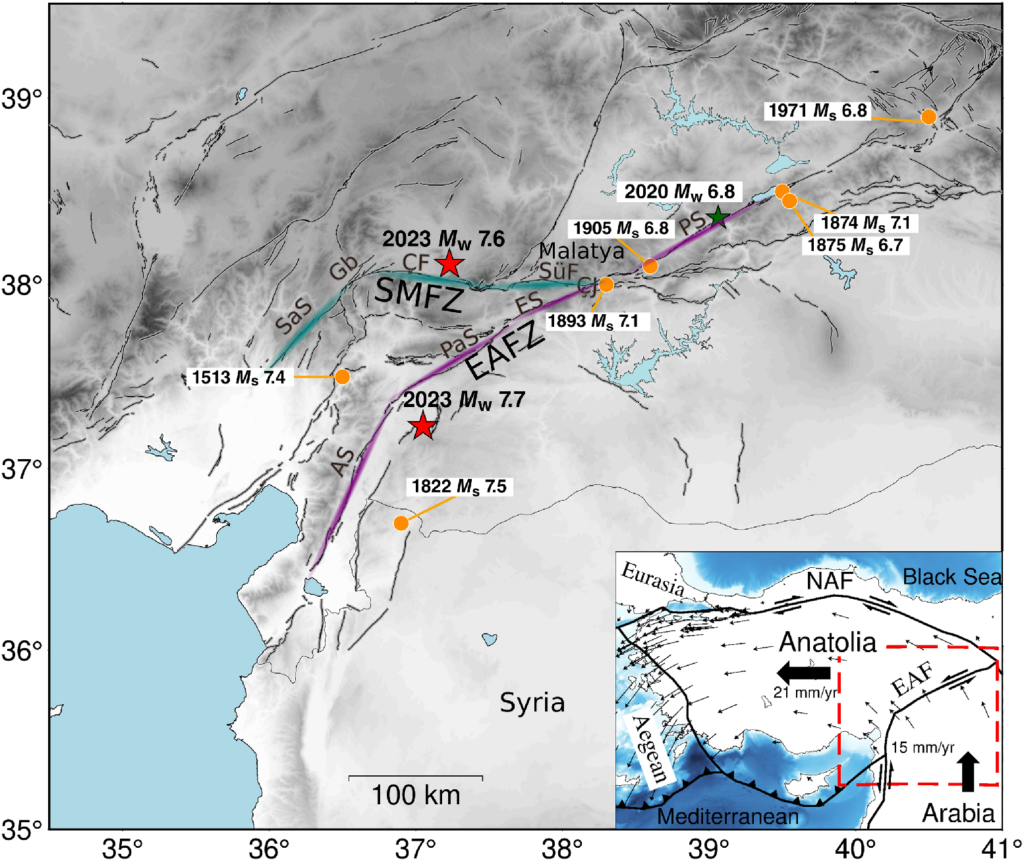 Prior to these two major earthquakes, this fault network had been relatively quiet for the past decade. The magnitude 7.8 was actually the largest earthquake ever recorded on the EAFZ. Since these two high magnitude earthquakes "woke up" this fault zone and triggered over 200 aftershocks, scientists have taken advantage of all of the data produced to uncover the processes and geometries that control and influence these fault zones.
The first mainshock ruptured along the EAFZ and the second mainshock ruptured along the SMFZ. The signals from these earthquakes showed scientists the different ways that these faults move. While both fault zones are dominated by strike-slip processes, the type of motion associated with the over 200 aftershocks vary significantly and include strike-slip, normal, and reverse faulting mechanisms.
The data curated from these earthquakes shows that the EAFZ ground motion shows an abundance of strike-slip processes in the north-east with some reverse faulting, but after three days of aftershocks, normal faulting mechanisms became more prevalent to the southwest.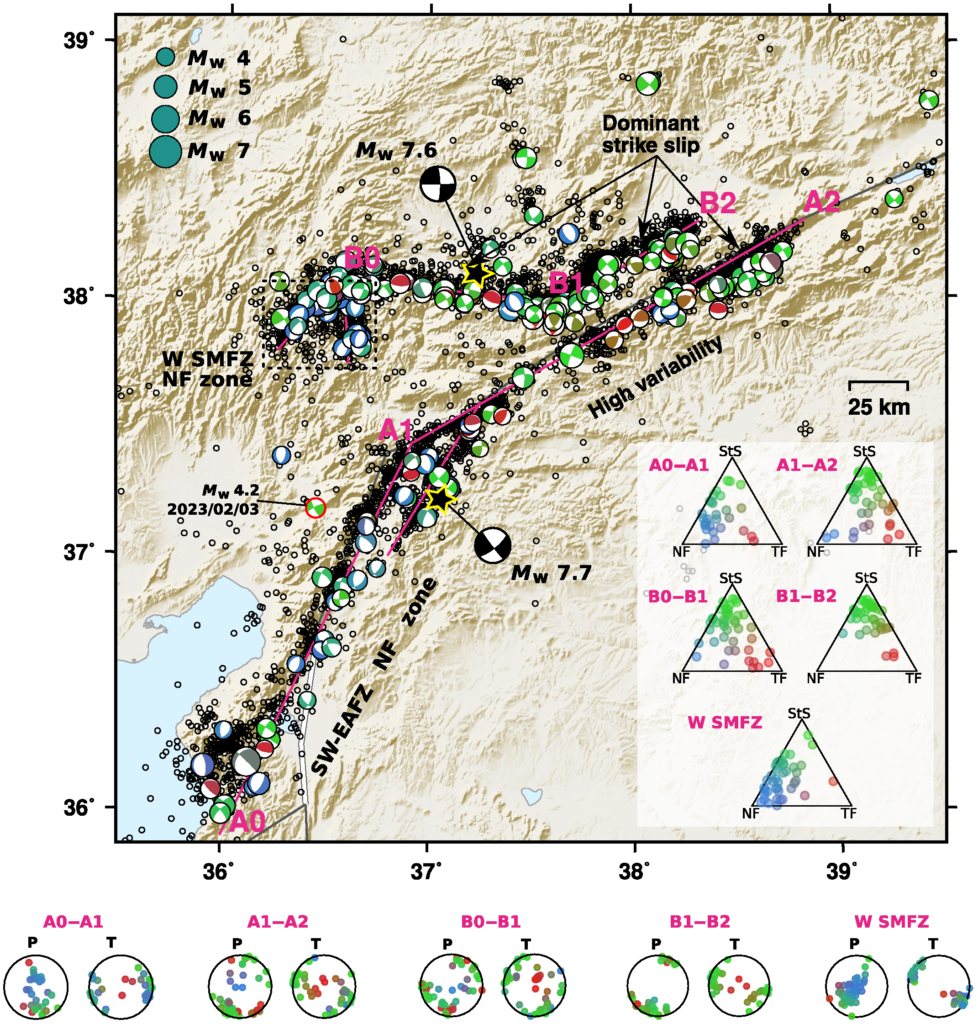 The SMFZ also shows strike-slip dominant faulting that confirms left lateral movement of the fault zone, which agrees with previous studies. However, what is unexpected about this data analysis is that it shows that the westernmost part of the SMFZ, like the southwestern EAFZ,  is defined by normal-faulting rupture processes. Moreover, the data analysis of the SMFZ mainshocks and the consecutive aftershocks have allowed the research team. to map the northeast section of the SMFZ (B1-B2 on their map) for the first time. 
The analysis of the seismic data produced from these large earthquakes and smaller aftershocks allowed for high resolution mapping of fault segments that had not been active in decades. It has also highlighted the fact that there can be a variety of motion types associated with a fault zone. Mapping the EAFZ and the SMFZ and understanding the different rupture processes and motion types is important for hazard mitigation because if we know where and how earthquakes will occur then we can better prepare ourselves as a society. This is especially important in Türkiye and Syria because not only has this area historically had major earthquakes but there are also large human populations that make seismic hazards a particularly high risk.