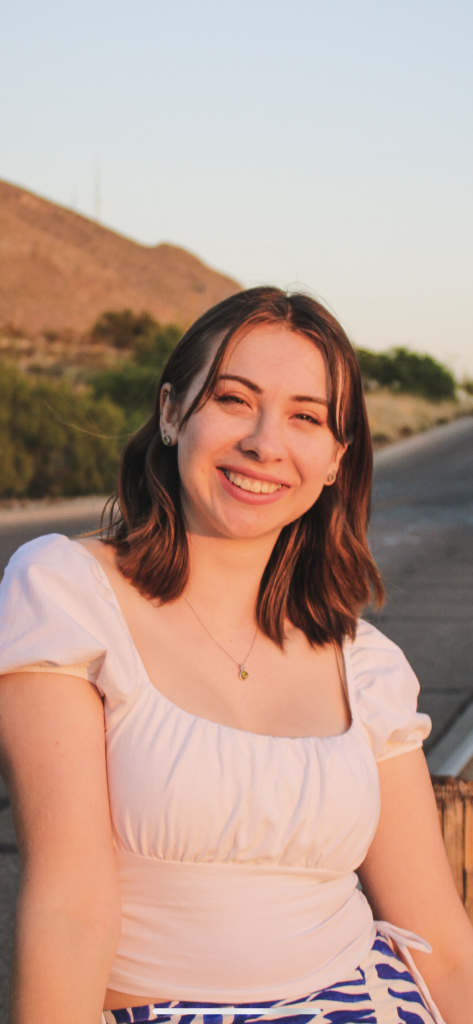 This summer we're introducing interns from URISE, RESESS, Student Career, and Geo-Launchpad programs to highlight their research projects and how EarthScope programs further their career goals.
Leah April is a URISE intern and a rising senior at University of Texas at El Paso studying geophysics. Leah is from El Paso, Texas, but she is spending the summer at Northern Arizona University. Last semester, Leah began research with her professor Aaron Velasco and Dr. Solymar Ayala to distinguish train signals from earthquake signals in seismic data using cross-correlation. They are examining data from El Paso, Texas in June 2021, cataloging the train and earthquake signals.
Leah heard about EarthScope from Dr. Velasco, and he thought she would be a great fit for the program. This summer, Leah is working with Dr. Joseph Byrnes, and they will be using receiver functions to analyze high frequencies produced by local earthquakes to image shallow depths. The team will be using data from the South California Earthquake Catalog, SCEC, and will be focusing on the year of 2019 as this is when the Ridgecrest earthquakes occurred. Updates from Leah's project will be posted here on her blog throughout the summer.
Q&A
What piqued your interest in the URISE program?
I still haven't taken any seismic courses, but my previous fall semester we took an intro class for geology. I thought earthquakes were pretty cool and that's where I might want to focus my interests. When I saw that this internship was mainly focused on seismic research, I thought I would try it out and see how it goes.
What's been your favorite part of the internship so far?
My coding is a little bit shaky and I'm still learning. The orientation really helped boost some of those functions. We are currently using MATLAB for our research so I am getting a lot more versed in how to work with MATLAB.
What are your career goals or post-grad plans?
I plan to stay on at UTEP for my master's because I want to do a master's project with Dr. Velasco who I am currently doing work with. I would be interested in looking at the fault line in El Paso that runs down the eastern side of our mountains. It's clearly mapped out in some locations, but not in others. I would like to do a project trying to use seismic readings to map out the fault line and where it goes underneath the urban area of the city.
In her free time, Leah enjoys going camping, hiking, backpacking, crocheting, and knitting. Leah began her internship the earliest, so she will finish in early August; upon the conclusion of her internship, Leah plans to visit friends in Austin, Texas.