M 6.1 Gulf of California, Mexico
Time:
Latitude: ° | Longitude: ° | Depth: km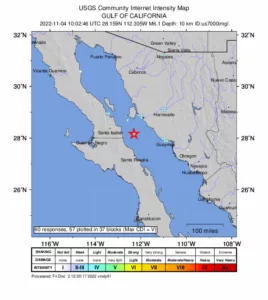 Did you feel it?
The USGS collects information from people who felt an earthquake and creates maps that show what people experienced and the extent of the damage. Submit a response.
NOTA GPS/GNSS Data
GNSS data access tools can be found here. The Event Data Access notebook can be used to locate stations nearest this event (adjust to 1 cm displacement).
At 10:02:46 (UTC) on November 4, a magnitude 6.1 earthquake occurred approximately 80 kilometers southwest of Bahía de Kino, Mexico in the Gulf of California. For more information, see the USGS Earthquake Hazards Program event page.
The event occurred within the footprint of the Network of the Americas (NOTA), a network of continuous GPS/GNSS stations and borehole instruments operated by UNAVCO that monitors plate motion and transient deformation, in addition to other applications. Stations near the event for which UNAVCO provides data were built as part of the TLALOCNet collaboration with Universidad Nacional Autonoma de Mexico (UNAM).
Use of any TLALOCNet archive data should also be acknowledged accordingly.