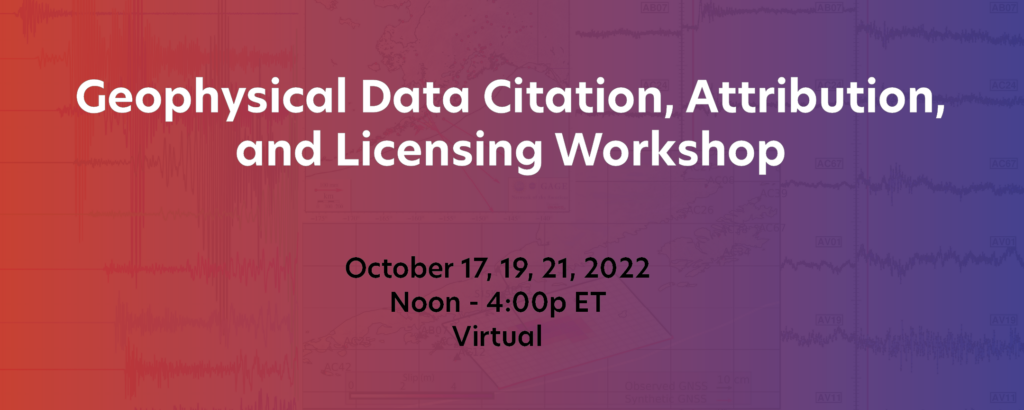 Overview
The Geophysical Data Citation, Attribution, and Licensing Workshop will bring together scientists and stakeholders interested in citation and attribution of geophysical data.
This virtual workshop will take place in three, four-hour sessions. We encourage participation by any scientists and stakeholders interested in shaping the future of data acknowledgement.
Target Audience
Researchers who use data from the GAGE and SAGE facilities, journal editors, and other stakeholders interested in open data policy, citation, attribution and licensing.
Goals
Workshop objectives include:
Identify approaches for consistent data citation and attribution within the geophysical/geoscience communities in a way that works with most publishers and scientific organizations.
Discuss data set licensing options and implications.
Agenda
all times EDT
Monday, October 17
12 PM – Introduction and Welcome – Suzan van der Lee and Julie Elliott
12:15 PM – Message from NSF – Maggie Benoit
12:45 PM – Current UNAVCO Data Policy and Ethics Guidelines – Dave Mencin
1:10 PM Current IRIS Data Policy and Guidelines – Jerry Carter
1:35 PM SAR/Imagery Data and Products Citation, Attribution, and Licensing – Chris Crosby
2:00 PM Archiving and Citing DAS Data and Products – Jerry Carter
2:20 PM Break
2:40 PM Challenges in Data Management for the Arctic Research Community and Indigenous Data – Noor Johnson
3:00 PM Shelley Stall, Vice President, Data Leadership, AGU
3:30 PM Open Discussion
Wednesday, October 19
12 PM Introduction and Welcome – Suzan van der Lee and Julie Elliott
12:10 PM Brief Overview of White House Guidelines for Open Publishing
12:20 PM Acknowledgement of the Global Seismographic Network in Scientific Publications and Proposals – Molly Staats, Kasey Aderhold and Andy Frassetto, IRIS
12:45 PM Guy Jones, Chief Editor of Scientific Data, Springer Nature
1:15 Breakout #1: Data Policies, Citation, and Attribution
2 PM Break
2:15 PM Summary Presentations for Breakout #1
2:30 PM Breakout #2: Data Citation, Attribution, and Publishing
3:15 PM Summary Presentations for Breakout #2
3:30 PM Open Discussion
Friday, October 21
12 PM Introduction and Welcome – Suzan van der Lee and Julie Elliott
12:15 PM Data Licensing: Options and Implications – Jerry Carter and Dave Mencin
1 PM Breakout #3: Licensing
1:45 PM Summary Presentations for Breakout #3
2 PM Open Discussion
Organizing Committee
Julie Elliott, Michigan State University
Suzan van der Lee, Northwestern University
Jonathan K MacCarthy, Los Alamos National Laboratory
Clara Chew, UCAR
David Mencin, UNAVCO
Donna Charlevoix, UNAVCO
Jerry Carter, IRIS
Chad Trabant, IRIS